Wednesday, May 14, 2008
A little more child-proof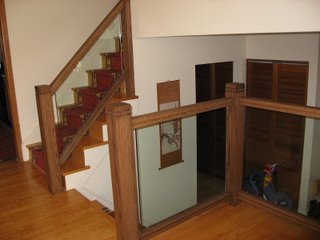 The previous owners of the home did a great job on renovations. One thing they did that was a little questionable was the removal of railings on the stairs and on the landing leaving a 3 ft. drop off exposed. It actually makes the living room look more open, but it isn't exactly baby-friendly.
Well after a year or so of talking about it, we finally had some railings installed. We wanted to keep the open feeling and decided to have glass railings installed. We're pretty happy with the result and glad that, once Brayden begins to crawl, he will not need to contend with a dangerous fall.
2 Comments:
cool idea, looks like some IKEA furniture backdrop for the IKEA house :)
By

Anonymous, at 5:21 PM
Looks nice, but not so "secured" and "baby-proof". Still have to keep a good eye on the baby. Also, using the "traditional" railings allow the toddler to grab on the "poles" as support to go up and down. Yours are not as practical".
By

Anonymous, at 7:20 PM