Wednesday, August 08, 2007
A new set of wheels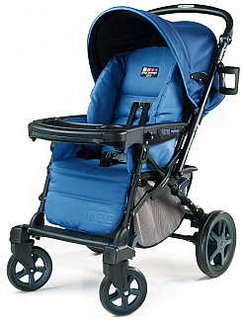 We picked up a new set of Italian wheels over the weekend. No it's not a Ferrari, but it does come with a luxury seat with some serious side bolsters and a 5-point harness, it has responsive "zero-radius" handling, and comes with a cup-holder. Yup, we picked up our very own Peg-Perego UNO stroller in hot "mod blue".
3 Comments:
Hey have you tried to use the stroller? We've had ours for months and the front wheels don't "go." Just wondering if they were all like that.
By

Anonymous, at 11:29 AM
We haven't tried it with the baby yet, but I've pushed it around a bit and on some rough surfaces to try it out at the store and I didn't notice any problems. The front wheels can detached.. perhaps you need to make sure they are connected properly? What problems are you experiencing with the wheels?
Thanks for writing this.